It 'been a while since I last wrote about baseball in Genoa. Many know why, some have guessed, but I wanted to wait until today to talk about it.
The championship is over and it's time to express my point of view, free from emotions "hot" and the picture in the round.
Given the many misunderstandings, I want to emphasize: this is just my point of view. No more, no less.
play
Fast Flashback: April 18, 2008. I am officially dismissed from the team.
The painting, although round, however, started a few months earlier.
Earlier this year, is called by a management meeting where it is proposed to the players a merger with Caires. Historical opposing team, but close group of Liguria. The project's objectives are twofold. Put all the players 'strong' of the two teams in Caires to go to Serie B, and all the players "young" in Genoa to play and to avoid relegation.
Shot change. Zoom In. Backstage.
The Gryphons were a team with a strong identity and cohesion. It 'a so-called "intangible". In the roster of statistics can not find this value. But when you get down on the ground, yes. You feel it. And sometimes, it makes you even win the games.
A thousand reasons absurd thought this merger separation. Technical, economic, sports. But what touched me most was one. Yes, I admit it: I was sorry not to play more with my teammates. I'm guilty. I also made a lot of noise and a lot of controversy over this. And I regret that. If I had not acted so, perhaps, at least I would not be misunderstood.
But the greed of playing in Serie B, has blinded everyone. And the only ones who do not raise your hand because the project began, new excluded, were Coppola and Caponi. Unlike Roger, I'm stuck.
Anyway, life goes on. As I wrote the last post on baseball Genoese, I tried to make me a reason and find motivation in the new team. I brought voluntarily to apologize for my behavior to management and, although an occasional dig controversy I always came out out, I began to try to turn the page.
Unfortunately, I was not even given time to assimilate it. The second league is Caires vs Genoa. Game where clearly we are defeated as clearly as the 'huge gap between technical teams. The atmosphere in the camp is certainly not quiet.
[Forward]
---
the circle is closed - part one
the circle is closed - part two
the circle is closed - part three
the circle is closed - part four
the circle is closed - part five
Cut to wide shot, zoom in on the fast carlinetto. First training session after the game.
If this story is like a circle, this event stabbed her as a straight line passing through the center.
Because of a discussion on the ball machine, something which I had not even attended by the mere fact of trying to get word, a person put his hands on me and sticks to the wall, yelling that I do not have the right to speak . At the end of training, the manager asks us not to take these things into practice. To which I reply that everything is fine, at least as long as you do not put your hands on me.
This person approaches screaming again close to me. And this time it gives me a head.
Although he saw the whole team, there are still people who believe that at that moment I was "supported the hat on his forehead." Now, try to take a baseball cap and appoggiatevelo strongly on the forehead. I would like to know if there is a sign like this for several days.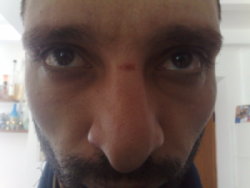 The person above is Maximum Subriano.
A player that I admired. The captain of Genoa natural Gryphons. A friend.
[Forward]
---
the circle is closed - part one
the circle is closed - part two
the circle is closed - part three
the circle is closed - part four
the circle is closed - part five

The line has passed the circle, and from that moment begins the downward spiral.
Everything becomes improbable, incredible, absurd. We are both suspended for training on Thursday and we are called to a meeting on Friday. The decision of the management is, after all, a "this should not happen, a good example that you give to kids. Responsibility is both to 50%. Do not do it anymore. Tomorrow, do it as if nothing had happened" ( plus a few other little nuances that I will not specify)
When we are asked if we wanted to say something, he liquid with a "never happen again" and you duck away. But I am wondering if I can and read two lines that I had prepared. At that point, realizing that the potato was becoming hot, the "management only" is divided and the two of you Caires defilano easily, even crossing them out.
I read that, according to my point of view, such a gesture represented vile action, improper and that has nothing to do with the values ​​of sport. And then it seemed unfair that remain unpunished. And most of all, then, I add that even be equated to those who put their hands on it seemed to me too much.
Here again, I should be silent.
Why after saying these things civilly, snapped the mayhem.
In a mysterious and ridiculous dispute between management and myself, between screams and insults, is improvised show of hands to expel me from the team. Three in favor, one abstention.
And the following Sunday, lephio watching the games from the sidelines instead of playing them on the field.
Little break. Black on the screen.
I know it took my all this and to have contributed in the first person about what has happened.
Engine .. action!
The following Sundays pass strange. I still can not believe what has happened. Never felt so empty on Sundays. Not hide, I can certainly give me peace. Every Sunday evening I feel Grazialk or Faith to know how the game went, who played, who does not. When I started the games at home, I went to see them all. So .. I try to keep in touch.
Because that's what I feel.
[Forward]
---
the circle is closed - part one
the circle is closed - part two
the circle is closed - part three
the circle is closed - part four
the circle is closed - part five

We are in the pipeline .. the circle will continue to make a shake, before the total collapse that will be the end.
Some of my teammates, after a few weeks of its nature, spontaneously decide to formally request the management to reconsider their position on the decision to me. Thanks to mediation, I am given to understand that presenting the "right way" there would be a certain openness on the part of management. It is organized as a "meeting" specially for me.
Time. About a little know me, because, unfortunately, is proud in various contexts. Orgoglione, to be exact. Thanks to the events of life, I began to learn to know me, and for some years now I have also been able to sometimes set aside.
But this time, after all that, with my complicity, I had been through, I just could not imagine to report to the meeting with the head covered with ashes.
Even on the day of the meeting, chatting with someone, I was furious and I never imagined that "gliel'avrei date won."
Then, a few hours before 21. 's charm.
A few words made ​​me reflect and lighter weight. I, basically, I just wanted to play. Some of my teammates have given me something without me to ask anything. In all this manure, I was given something precious. And it seemed natural to put aside all past issues.
Thus, during the meeting, I could not believe my ears when I told him honestly that I was sorry I did controversy, have hurt someone with my words or insulting or debated on decisions that were not under my responsibility. At that moment, I was not interested at all to continue with criticism, comments or controversy. I only had to play.
When I came out cus, I was happy. First of all because I was much calmer than before. Secondly, because it seemed to have given the leadership that he wanted to hear. And I was sure that I would be readmitted to the team, because I did not have to build a theater to convince the leaders (which, however, I would not be able to do), but I just told them how I felt at that moment, so I was just in peace.
This feeling, however, did not last long. The next day I received a phone call from Boccardo, which agrees with Giacomelli, Ottonello and Oneto, tells me that I can not return to the team. A write now, I run away laughing. If I had not asked me, I would be given even motivations. Probably.
There are two reasons. One because I have not called me to ask for the meeting, but because we have moved some of my teammates. The other is that they think my return to the team would undermine the positive atmosphere of the moment.
This is ridiculous. And I use the word not by chance, because they really make me laugh right now. Because after that phone call, I was not angry, disappointed or sad. I was disappointed, but relieved. The absurdity of the answers I was given made ​​me realize how much lightness and insensitivity was impegata to manage my eventual return.
After three months of the decision, I have not received a written notice and official thing. While they, the next day, were quick to take to the field after a training letter on the outcome of the meeting, where they distorted my words in the eyes of the team. Moreover, when asked what there was at least one of my teammate only a witness, as he was comfortable in all these months to paint me as "crazy", the leadership did not have the courage to do everything in the light of the sun .
The neglect of the thing, I flashed my eyes when a few weeks later, by chance, I read the letter. "The altleta Capponi," I am called. Now .. I do not say you know by heart a surname that is every Sunday on the roster or that has been present for two years on the site, but at least care to check before printing .. Freudian slip? :)
This leadership has been able to grasp the beauty of a gesture of solidarity sport. And I will not even get angry, because the values ​​of sport, not once but three times gave a demonstration of not even knowing what they are. And for me it was liberating. With people like that because I do not want to have to do. I do not think you deserve it.
However, I am so glad. My conscience is clean and more than this thing has opened my eyes about people that I've had to do in recent years.
[Forward]
---
the circle is closed - part one
the circle is closed - part two
the circle is closed - part three
the circle is closed - part four
the circle is closed - part five
Last act, title as in silent films. "The big scam."
I am convinced that things often do not happen by accident. And I like to think that for the second league (return) against Caires has come an avalanche of water just because the full circle.
After the last day of the championship Caires is fourth in the standings, out of the playoffs by some Sundays, while Genoa is last in the standings. At that time relegated to C2.
Except that there is still the aforementioned game, just against Caires. The Genoa still has a chance to even the score Sant'Antonino and then play for the play-offs for relegation.
The Genoa, 16 lost and one won, will win with Caires, is almost impossible. As I said, we lost the first leg 11-1 in the seventh inning. The technical gap is unbridgeable.
But here's the infamous decision. Caires The Genoa will win.
Shame.
I just wish these people at least ashamed, but unfortunately as I said, I do not know what values ​​are, and they will also be smart. Each will have its ready "justifications" for what has been chosen to do.
The reality is this. A game (championship) stolen, fake. A lie, a fraud. A farce, a scam.
Sometimes we should stop a moment and ask yourself "why play?". Why play!? Play. When you sport, there comes into play. The players spontaneously decide to set rules and to play according to these. And 'the dawn of time man plays.
Breaking the rules means stop playing. And to be of players. manager. managers. = sports game. and a sports association, all together, there comes into play.
If I were a player I would play it. If I were a manager not gestirei. If I were a manager does not approve of.
Giving a game is an infamous act. And above all lack of respect for the opponent.
respect. honor. empty words, for those who sell their game. it is easy to pull through when mentioning "the unwritten rules of baseball", so bullarsi with pride "if you let me bunt above 10 points you shot him."
But then when you really need to show the honor to say and take responsibility for a last place in the standings, it uses these crappy games.
Needless to say, all this is for me aggravated by the fact that earlier this year, regarding the merger, when asked "what happens when we play against?" There was assured that "the two teams will play to the best of ability and will do anything to win."
Sunday, August 3: Genoa 7 Caires 5.
The worst thing then is the 'humiliation of the opponent. An opponent, among other things, which, paradoxically, is also your partner. Force the receiver to retire a runner stealing walking, giving him no reason to offend the batter a base on balls and leave on the bench your strongest hitters.
Stuff by vomiting. I did not go to see this game (again lit the last minute) because I would have made ​​a rotten blood free and I would have told you these things in the field, definitely coming again misunderstood.
Fortunately, my time is valuable and I did not hesitate in choosing between the day I lived and that I could live.
In all this, the other opponent, sportingly real and not fake like genovacairo could really be affected by this scam. Again there is no respect of 'opponent. With this farce, the St. Anthony will play for a playoff that would not have taken place.
Unfortunately, I have to hope that the New Panthers win, because they find it really unfair, especially after their seasons C2 are finally able to come up and stay in C1, may suffer the consequences of the misconduct of Genoa and Caires.
Black screen. Background music.
This trip is over. The circle is closed and I am serene.
Now I can rest a bit.
Set off.
To a new destination.
---
the circle is closed - part one
the circle is closed - part two
the circle is closed - part three
the circle is closed - part four
the circle is closed - part five
Pome Sunday I went to see my first baseball game "juniors". That's so cool! Seemed all the players in miniature! Some children had a amazing style!
Unfortunately, the Gridoncini have Buscate, but the technical gap (especially with talented cairini) was very high.
I hope this winter league is taken as an excellent opportunity for discussion and a stimulus to improve the level of Genoa. I think Dritons and Santas can best work together to achieve quest'obbiettivo! :)
MiniGenova gooo!